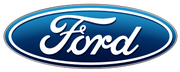 Founded in June 16, 1903. Ford Motor Company (a.k.a Ford) is famous for making the first car catered to the civilian market in 1904 with the Model T with a 20hp engine (Top speed: ~40mph). Ford is also famous for their "Mustang" line of cars which are affordable, compact, and highly styled cars with a sporty or performance-oriented image. The "Mustang" line of cars celebrated their 50th anniversary in 2015
Pages in category "Ford"
The following 6 pages are in this category, out of 6 total.
Ad blocker interference detected!
Wikia is a free-to-use site that makes money from advertising. We have a modified experience for viewers using ad blockers

Wikia is not accessible if you've made further modifications. Remove the custom ad blocker rule(s) and the page will load as expected.