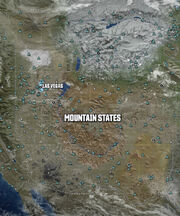 The Mountain States
is a geographical region in
The Crew
. It is comprised of mountains, valleys, deserts, forests, and farm lands.
It is the largest region in the game, but is tied with the East Coast for the least amount of cities, both only having two. It does have a lot of small towns, though.
Landmarks
Edit
The region consists mostly of the states of Arizona, Colorado, Idaho, Montana, Nevada, New Mexico and Utah, and incorporating parts of California, North and South Dakota and Texas.
The region hosts an "out-of-this-world" secret. You can find a UFO somewhere south of Las Vegas and west of speed skill 91, however, you will need to go off-road to see it. A Raid vehicle is recommended.
Ad blocker interference detected!
Wikia is a free-to-use site that makes money from advertising. We have a modified experience for viewers using ad blockers

Wikia is not accessible if you've made further modifications. Remove the custom ad blocker rule(s) and the page will load as expected.