Seattle



Location

West Coast, Washington State

Type

City
Seattle is one of the largest cities on the West Coast of The Crew.  It is located on the far northwest corner of the map, northwest of Auburn. Seattle is also much larger than San Francisco (In Game). Seattle contains many landmarks such as the Space Needle, Columbia Tower, Safeco Field, and more. The city is located at the northwest corner of the map. The city is surrounded by mountains, forests, and the Puget Sound.  There are several ways to enter the city by road or by rail.
Seattle is clearly visible at night from a distance, especially in the surrounding foothills.  The Space Needle (Named "The Tower" in game) is also lit up from top to bottom. Players can not drive up to the Space Needle due to it being blocked. Seattle in the game has no airport. The suburban area of Seattle is large with neighborhoods, stores, commercial districts, and more. Seattle also has many missions that take place such as challenges and jumps. 
The location of the satellite dish is near the harbor with construction cranes in a small train yard.
Seattle has amongst the most unique structures in The Crew.
In Real Life
Edit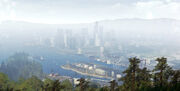 Seattle is the largest city in the State of Washington, United States.  It is home to various landmarks such as the Space Needle, Pike Place Market, and more.  It is home to major companies such as Boeing, Starbucks, Costco, Amazon, UPS, Peterbuilt, Microsoft, Nordstrom, Expedia, Weyerhauser, and many more.  Seattle is recognized for it's natural beauty and abundance of water, forests, and mountains.  The city of Seattle has over 600,000 citizens, and over 3.4 million in the metropolitan area which clusters around the Puget Sound and includes other big cities like Tacoma, Bellevue, and Everett.  Seattle is a major shipping and transportation hub, the largest in the Pacific Northwest.  Seattle is part of the largest ferry system in the United States, the Washington State Ferry System.
Landmarks
Edit
Downtown
Pike Place Market
Pioneer Square
Safeco Field (Seattle Field Ingame)
Seattle Center
Seattle Space Needle
Smith Tower 
Waterfront
Seattle Harbor
Pacific Science Center
Columbia Tower
Monorail
Ad blocker interference detected!
Wikia is a free-to-use site that makes money from advertising. We have a modified experience for viewers using ad blockers

Wikia is not accessible if you've made further modifications. Remove the custom ad blocker rule(s) and the page will load as expected.